Automotive Paint gun is a device consisting of a container from which paint is sprayed through a nozzle by air pressure from a pump to apply a long lasting smooth finishing on a car. Without this paint gun, the car manufacturing and repairing industries cannot operate fully.  This is because of it's indispensable purpose on all the automotive machines.
Long gone are the days where painting of automobiles was hard, tedious and costly by use of syphon spray guns. You could spend a lot of time to finish a simple painting job on your car because you had to apply like 20 coats to achieve a nice finishing. It also posed a health threat because it was highly pollutant.
Today, life has been simplified in all its aspects, one of them being the modern way of maintaining cars' longevity and quality by the use of high volume low pressure (HVLP) paint gun. For this gun feeding the paint into it requires gravity instead of siphoning it from the bottle as it was the case with the old gun. With just a few coats your car will look almost brand new.
Automotive paint gun is likely the best and professional gadget you need to use for your car repainting needs.
Materials used to make the automotive paint gun.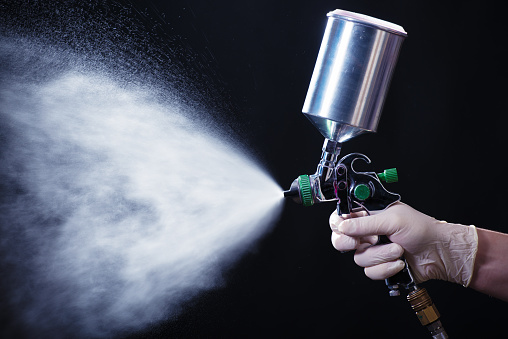 The preferred materials for making paint guns are metal and plastic. Some paint guns are disposable after use and so they are made from easy to recycle materials in order to prevent environmental pollution. The non recyclable ones are very long lasting and a bit high in terms of cost as opposed to the other ones.
Cost
Since there are so many automotive paint gun manufactures across the world, size, cost and quality in the market tend to differ. It's up to you to determine which one you are going for according to your preference and affordability. You can check out on www.amazon.com. For example the gun below  goes for $27.96. It is a brand pneumatic air undercoating gun with suction feed cup which is excellent for automotive undercoating and other general purpose coatings. A similar gun to this from another manufactures could cost differently, either higher or lower. As the buyer, make sure to search for enough information to know the right one before you actually buy.
Image Source: www.finishsystems.com
Gun usage
All guns are universal by use when it comes to fixing them to the pressure machines as shown below. Now this is important, the type of paint you intend to use will so much determine your choice of gun. Nowadays, many painters prefer urethane paints instead of lacquer paints. If you just want to do a clear coat paint for example then check on the nozzle and feed sizes.                       
Your safety is important
Before you even think of beginning your painting task, you must first of all buy a complete painting suit to protect your health from dangerous paint toxins and prevent you clothes from getting the paint which is almost impossible to wash away. The suit includes gloves, goggles, respirator and a dustcoat.
About the author
Hello everybody! My name is Morris Rollison, i'm a automotive reviewer and I have a car blog. I choose this job because I feel as though I would have a lot of personal experience to bring to you.